Skiving Bell Knife
Skiving is one of the important preparatory operations carried out in the fabrication of leather goods. Skiving is also known as "paring" in leather goods terminology. Skiving operation is done mainly to reduce the thickness of the cut components of the leather material mostly at the edges to varying width in different ways to suit the methods of construction, in the manufacture of leather goods. Except in cut edge construction, in all other fabrication work, skiving is invariably done.
Skiving is necessary for fancy leather goods making. It is performed by machine in modern factories, machines of the cylindrical knife type being the most popular. For some classes of leather goods the reduction of leather substance by the machine alone is sufficient for the subsequent assembling processes. In other grades of articles the machine operation is followed by hand skiving. Knife is used to effect the future reduction necessary for turning over rounded corners, and for touching up the machine pared parts. The feather edging and fine edging of the leathers are usually carried out with the hand knife.
When correctly adjusted and operated, the skiving machine produces a very uniform reduction of substance. Hard and thick leathers can be as evenly pared as those of soft texture, and the reduction of large areas is performed more satisfactorily and with less risk of damage then with hand knife. As a labor saving appliance, the machine is remarkable; a time factor of roughly 90 percent for straight forward skiving is in favor of the machine as compared with the hand process.
The operation requires a reasonable degree of skill on the part of the operator having experience. An operator who is not familiar with the principle of the skiving machine and its adjustments can destroy much valuable leather. Modern skiving machines are substantially built and are capable of very fine adjustments. Such adjustment is constantly required, not only to produce different skives, but also to perform on various kinds of leathers.
Size Range
Outer Diameter: 117 mm
Inner Diameter: 114 mm
Bore: 52 mm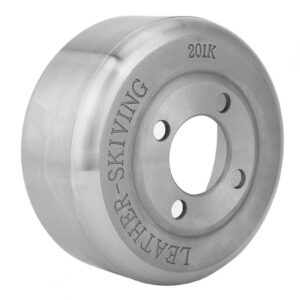 Don't know what kind of blade is suitable for your application. Contact us and we will figure it out for you.