Lamella Doctor Blade
In printing the doctor blade (from ductor blade) removes the excess ink from the smooth non-engraved portions of the anilox roll and the land areas of the cell walls. Doctor blades are also used in other printing and coating processes, such as flexo and pad printing for the same function. It is believed that the name derives from the blades used in flatbed letterpress equipment for blades used to wipe ductor rolls, and "ductor" became doctor.
In a single blade ink system or dual blade ink system, the blade removes the excess ink from the cylinder or anilox roll to create a uniform layer of ink to be transferred to the printing plate. The blade/anilox combination is designed such that it is (chiefly) the blade which wears away, not the anilox roll. The doctor blade is a relatively cheap and disposable consumable, while the gravure cylinder or flexo anilox is a more expensive component of the press. Typical materials for the blade are steel or polymer. gravure cylinders are normally hard-chrome plated and flexo aniloxes may be chromed or ceramic.
Important process variables in gravure coating & printing are the rotational position at which the blade wipes the cylinder, the angle that the blade makes with the tangent to the cylinder at the contact point, and the pressure applied to the blade. Fine adjustment of in-and-out position, independently on left and right, must also be possible, in order to compensate for any misalignment between blade geometry and cylinder axis. These requirements are fulfilled by a doctor blade assembly which includes a doctor blade holder.
Doctor blades are traditionally designed in 3 main tip configurations: straight, bevel and lamella. A straight doctor blade has a straight, blunt edge and is used for lower quality print. A beveled doctor blade is cut at an angle creating a beveled edge. A lamella tip is a doctor blade with a unique geometry that is thin at the tip, gradually becoming larger in a step pattern or other design. The bevel and lamella designs allow for a smaller blade-to-anilox contact roll which increases its ability to precisely shear the anilox roll or gravure cylinder.
Size Range
All Doctor Blades are available in multiple size configurations. Please see below for more information.
Grade
All Doctor Blades are available in Carbon Steel and Stainless Steel Grade. Please see below for more information
Edge Configuration
All Doctor Blades are available in Round or Lamella Edge configurations. Please see below for more information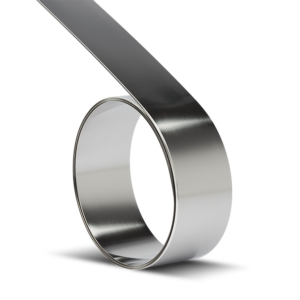 Don't know what kind of blade is suitable for your application. Contact us and we will figure it out for you.