Band Knife Blade
Band knives are a flat length of narrow steel you would mount onto a band-style cutting machine to slice, slit, or score material. A band knife's cutting edge is designed to slice through material leaving minimal waste in the process. On a vertical band knife machine usually a narrow width band knife blade is used, the most common width being 10 mm. The length of the band knife blade depends on the supplier of the band knife machine. The dimensions are indicated on a small metal tag pasted or riveted on the machine. The vertical machine band knife blade is most commonly a "double bevel, double edge DBDE" execution to enable cutting while advancing the table and also while retracting the work table, while as the "double bevel, single edge DBSE" execution cuts only in one direction.
Productivity is enhanced when the operator cuts both while advancing and also while retracting the work table after adjusting the foam block after each pass for cutting. The DBDE execution blade can have a parallel or twisted 180 degrees welding. The twisted welding execution saves a grinding unit, as both edges pass the same grinding unit after two turns. It has been observed that a narrow width on a vertical band knife machine gives better dimensional accuracies on the foam block. The wider the vertical machine band knife – more the deflection and size variation from one end to the other extreme end. Horizontal band knife blades are wider usually 30-60 mm wide for foam converting is popular, for leather goods 40-50 mm wide blade is popular, 85-110 mm width is popular for the tannery splitting band knife.
There are other widths depending on the machine manufacturer. The horizontal machine band knife blade is supported by a guide to give dimensional accuracies while cutting/splitting. Therefore, only blades that have passed as one main manufacturing step a surface grinding process reach the necessary thickness tolerances of less than 0.02 mm. A higher tolerance would lead to marks on the surface of the split material like leather or rubber. Blades are available in different grades of exactness depending on the required exactness on the material to be cut/split. On modern machines in combination with a high grade blade a splitting thickness of 0.2 mm for 1500 mm material width is possible.
Size Range
Length : 2007 – 16000 mm
Width : 3.50 – 120 mm
Thickness : 0.20 – 1.20 mm
Weld Configuration
All Band Knives are available in parallel or twisted Weld Configuration
Edge Configuration
All Band Knives are available in multiple Edge Configurations. Please select the Tooth Profile below to know more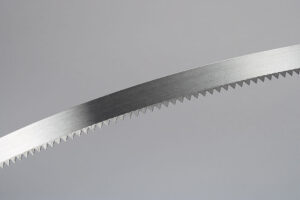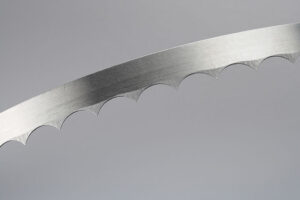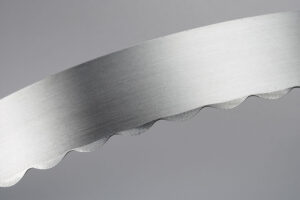 Compatible Machines
Garment Industry
Gerber Technology, Investronika, Lectra, Fk System, Investima, Bulmer, Takoka, Rexel
Tanneries
Mosconi, Poletto, Rizzi, Turner, Svit, Linta, Mercier, Alpe, ,Alpespak, CSM Bremmpeck, Dalian, Feng Hsin, Huzhou, Mercier, Kela, Moenus, Seiko, Yi Hone
Leather Products Industry
Albeko, Alberti , Atom , BUSMC, Camoga, Chengda, Chuan Chyi, CHU-HO, Eaga, Fortuna, GG Gear, Huasen, Jumbao, Klein, Li Hone, Mec-cal, Nippy, Quanzhou Jubao, Sagitta, Sama, Shengbang, Shenlong, Shenming, Sigma Machinery, Sungear, Svit, SYSCO Taiwan, THM , Wang Lee, Wenmei, Wenzhou Bangda, Wenzhou Dashun, Wong Sop
Foam Industry
All models of Vertical, Horizontal, Circular, Looper, Peeling, Block Cutter, CNC Contour Cutter and Pillow Cutters
EVA Industry
All models
Cork Industry
All models
Tissue Paper Industry
All models
Don't know what kind of blade is suitable for your application. Contact us and we will figure it out for you.